Posted on 08/25/2023
By: Sean Crose
First it was Dillian Whyte. Then it was Alicia Baumgardner. And now heavyweight contender Robert Helenius has failed a drug test, one that he took before his high profile fight two weeks ago against Anthony Joshua. "Today," Matchroom Promotions – the force behind the Helenius versus Joshua bout – stated via press release, "the Voluntary Anti-Doping Association (VADA) has informed Matchroom and the British Boxing Board of Control that Robert Helenius has returned an adverse analytical finding as part of a random anti-doping protocol."
The statement then went on to claim that the test was voluntarily taken by Helenius on the 11th of August, the day before the Joshua fight. "The result," the statement continued, "was made known to Matchroom today." Suffice it to say the banned substance(s) in Helenius' system didn't help him in the ring against Joshua, for the towering Englishman lay his Finnish opponent out in the opening round of the bout.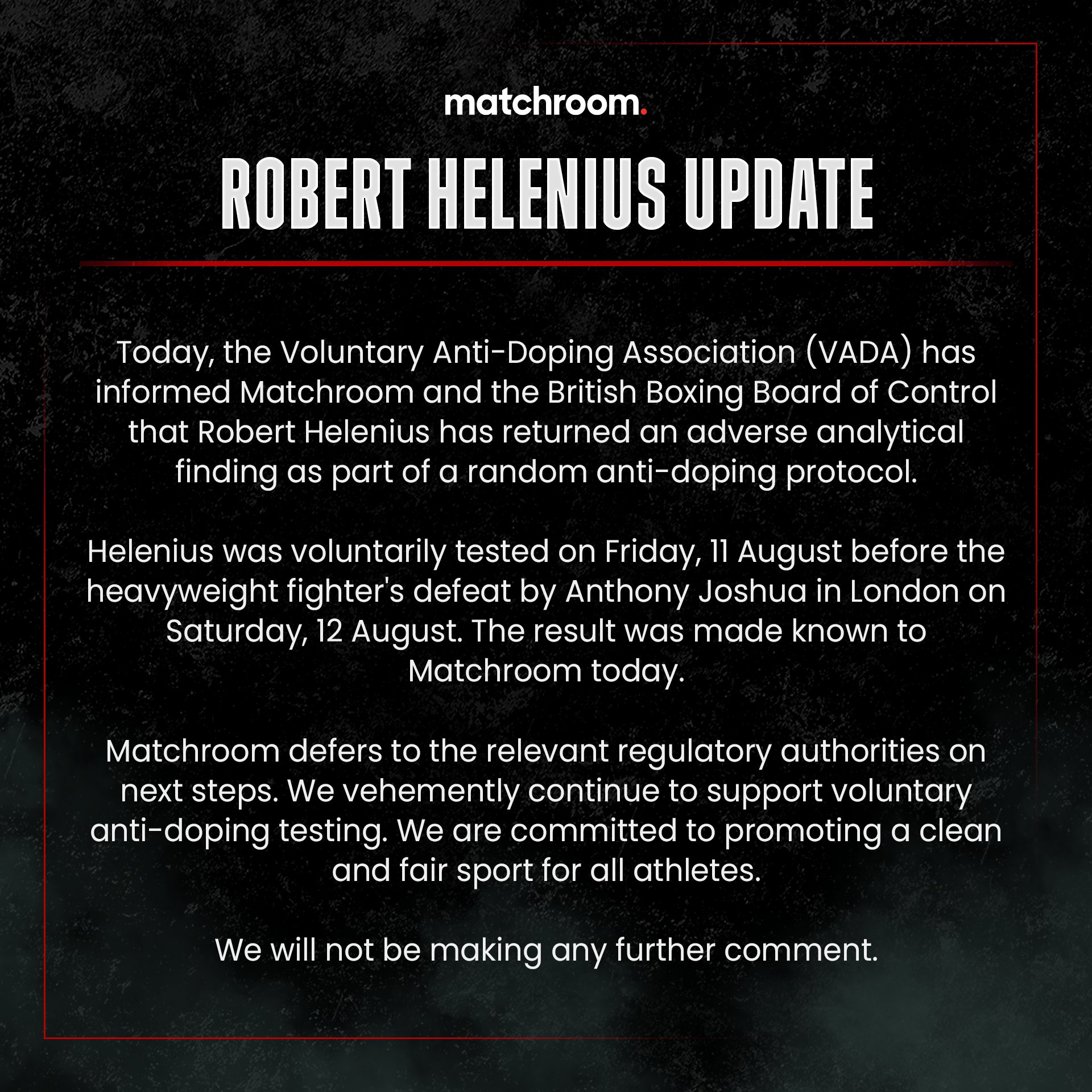 "Matchroom defers to the relevant regulatory authorities on next steps," the statement went on to read. "We vehemently continue to support voluntary anti-doping testing. We are committed to promoting a clean and fair sport for all athletes." And with that, Matchroom essentially washed its hands of the affair. "We will not be making any further comment," the statement concluded.
The irony of the situation, of course, was that Helenius was a last second replacement for Whyte, who couldn't face Joshua himself because of his own failed drug test. "In Finland," Helenius said of failed drug testing before squaring off against Joshua, "if I would be caught I would be lynched for my whole life. Two year minimum, nothing. I would never get a license again." Talk about words coming back to haunt you.
On top of all else, this latest high profile drug test snafu comes about a week after it was announced that undisputed lightweight titlist Baumgardner had failed a drug test of her own. The truth is that Helenius will most likely deny any wrongdoing, as Baumgardner did, and, in fairness, neither fighter may have consciously cheated. In a sport like boxing, however, people can get severely hurt or even die. Whatever the reason may be, a fighter who fails a drug test should perhaps have to face the consequences without exception – for the consequences of treating such matters lightly can be severe indeed.
Besides, boxing often has enough of a bad reputation as it is.