Posted on 11/08/2023
By: Sean Crose
Knock Jake Paul all you want – the man keeps busier than virtually every recognizable name in boxing at the moment. And while it's true Paul isn't anywhere near the caliber fighter of say a Canelo Alvarez or a Terence Crawford, there's no denying the fact the 26 year old social media star is challenging himself as a professional boxer. How many other top names can the same be said of? On Wednesday it was announced that Paul would fight for the third time this year. His new opponent is the 10-1-1 Andre August. The 35 year old August isn't well known…but he's certainly not Nate Diaz, who lacked a modicum of seriousness when he lost to Paul last summer. In other words, August is a legitimate, if unheralded, professional fighter.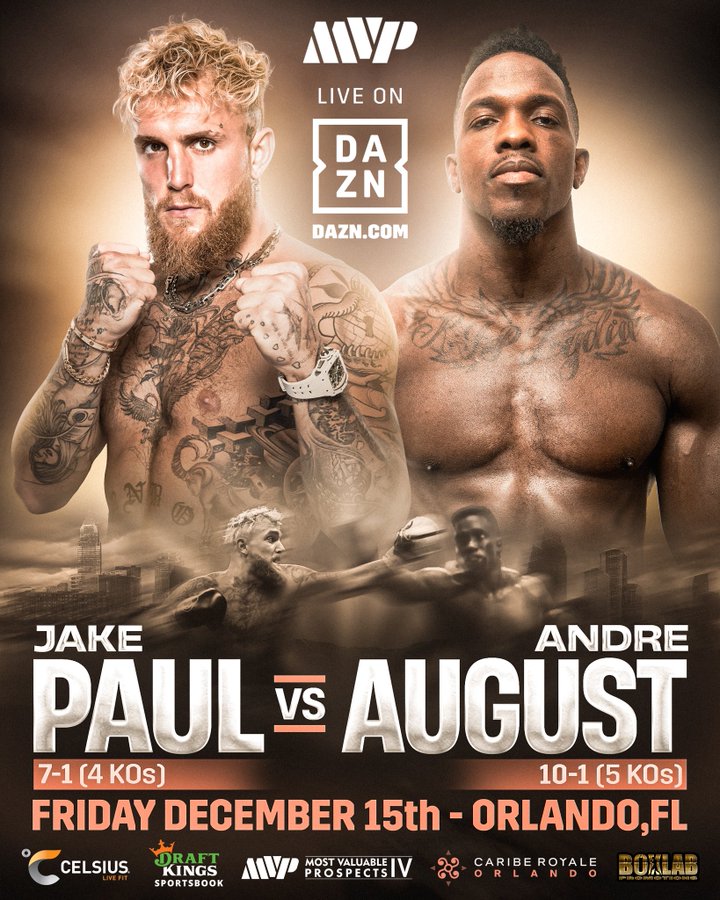 "I'm a professional boxer and I want to be world champion, so I need to pursue the path towards greatness against people who have been boxing their whole life," the 7-1 Paul claimed. "So far, my entire boxing career has been on pay-per-view, but now it's about more than business. Now I want to build my experience in the ring against seasoned fighters. I'm coming to prove my greatness on Friday, December 15th live on DAZN for the world to see." For his own part, Texas native August is eager to step under the bright lights to take on Paul.
"I don't talk very much. I'm all about that action! Jake Paul has the money, the fame, the team and the resources but he doesn't have my hunger," August stated. "When that bell rings, I am going to go straight to Jake Paul and ring his bell and send him back to YouTube for good." There's no doubt August's stock would rise exponentially were he to best Paul in November – and indeed he might. Paul hasn't been known for facing professional boxers in the boxing ring, but now he's facing the real thing for the second time this year (his only pro opponent until now was Tommy Fury, who bested Paul back in February).
"Ask and I shall deliver," Paul tweeted on Wednesday. "August has more KO's than me, more wins than me, more experience than me, but I like to gamble. The path to world champ starts here. Just straight up boxing." Again, knock Paul all you want, but for an 26 year old, 7-1 fighter, his record isn't bad. Not great. But not bad. No one's saying the man is a prodigy. Still, it's interesting to see an individual who takes the fight game seriously see how far he can go. And to let the world see how far he can go, as well. Yes, Paul is flashy and has a mouth, but he's also a good salesman. Scratch that, a great salesmen. That's why this fight won't be on pay per view, but will instead be broadcast on DAZN's regular streaming service. Paul is looking at the bigger picture here. And if boxing is in need of anything at the moment, it's less pay per view events.