Posted on 10/25/2023
By: Sean Crose
Former undisputed bantamweight champion Naoya Inoue will attempt to attain even greater glory this winter in Japan. For the 25-0 fighter is now set to take on IBF and WBA super bantamweight titlist Marlon Tapales this December 26th in Tokyo. Seeing as how Inoue currently holds the WBC and WBO super bantamweight titles, a victory over Tapales will mean he becomes the undisputed super bantamweight champion of the world. What that means is Inoue will then have a resume that includes two undisputed divisional championships in two separate weight divisions. This sort of thing can be confusing even for die hard fight fans, so let's make it simple: The Inoue-Tapales fight is quite a big deal.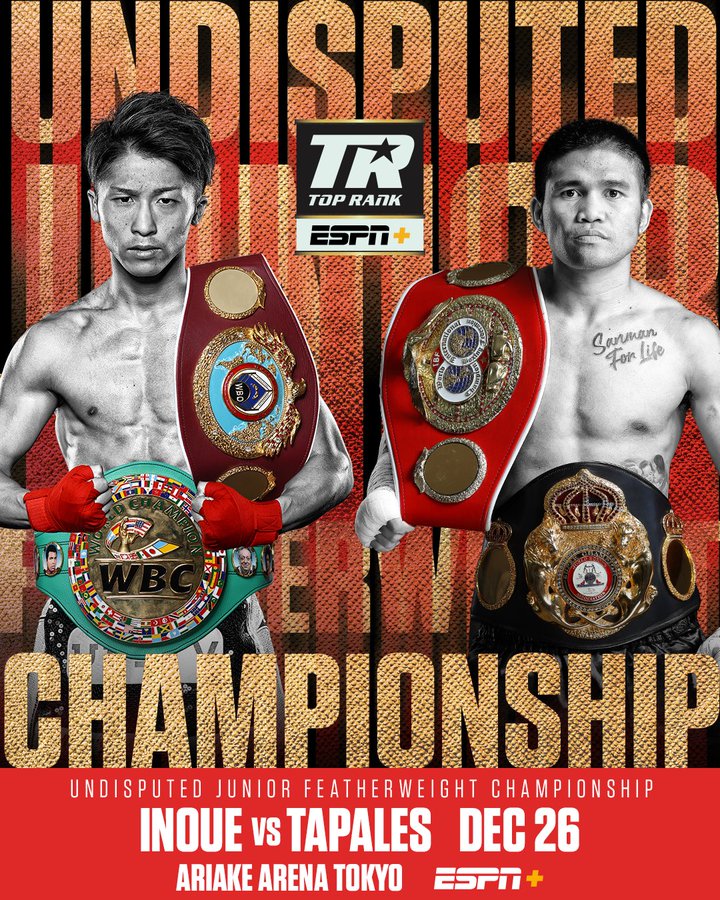 "The sensational Naoya Inoue," says promoter and Top Rank honcho Bob Arum, "astounds with every performance. We are witnessing an all-time great fighter in the prime of his career. He has a very difficult task at hand on December 26 against a tough, powerful Filipino champion in Marlon Tapales, but I am confident 'The Monster' will pass this test with flying colors." Inoue, not surprisingly, is eager for his showdown with Tapaels. "I want to knock him out," says the 30 year old multi divisional champion.
Inoue, who is known for his explosive power, especially to the body, indicates he wants to bulldoze through the impressive Tapales. "I want to show my overwhelming power and win," he says, "even in a fight like this where becoming undisputed champion in a second division is on the line." The 31 year old Tapales, of course, has other ideas. Inoue is aware of this, as well as his opponent's skill in the ring. "I hadn't really seen much of Tapales's fights," he said, "but my impression was that he was a tough fighter." Studying Tapales gave Inoue an even stronger impression of his fellow titlist.
"When I looked at his fights," says Inoue, "my impression of him completely changed — he defends very well and he has a lot more technique than I first gave him credit for." With all that being said, Inoue is happy not only for the chance to face Tapales, but to continue pursuing his career dreams in the post Covid world. "It took me over four years to win all the bantamweight belts," he claims, "but it looks like I can win all the super bantamweight titles within 2023." An impressive feat – provided he can pull it off.
I'm really glad that I've been able to quickly make up for the time I lost to the coronavirus pandemic," Inoue says.