Posted on 10/01/2023
By: Sean Crose
Showtime pay per view, Premier Boxing Champions, and the T-Mobile arena hosted one of the most relevant matches of the year Saturday night when Canelo Alvarez squared off against Jermell Charlo in a scheduled twelve round battle for the undisputed super middleweight championship of the world. Charlo walked to the ring alone, gunfighter cool, his head partially covered by the hood of his black sequin robe, looking like a stylish Sith.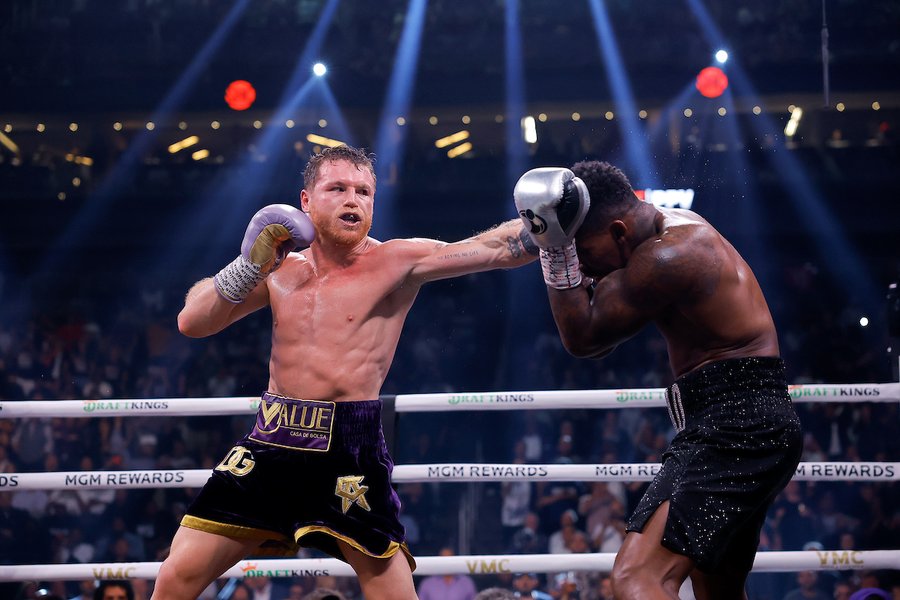 Defending undisputed champ Canelo, on the other hand, walked out slow and steady with his entourage, looking big and formidable. Could Charlo pull off the epic feat of jumping two weight divisions to conquer the great Canelo Alvarez? Could Canelo prove to the world that his career wasn't in decline, as it had recently appeared to be? It was the moment for questions to be answered.
The crowd was loud and electric, but the first round was mostly a cautious affair for both fighters. Charlo moved about the ring fluidly while Canelo stalked his man with laser like focus. The second saw Canelo start to land his thudding body shots. Charlo had a better round in the third, effectively throwing Canelo off his rhythm at times. The fourth was close and interesting. Canelo landed, sure, but Charlo himself was able to zip shots at the defending champion, especially his jab.
Charlo went on to look slick and impressive in the fifth. Indeed, Canelo appeared at times to have difficulty finding his man. The fight remained interesting in the sixth. Canelo had moments where he landed hard, but Charlo was throwing a LOT of punches. By the seventh, though, Canelo's power shots took their toll. Tough as he was, Charlo had to take a knee. He got up gamely, but Canelo smelled blood. To his eternal credit, Charlo survived the round rather effectively. Charlo went on to have excellent moments in the eighth – but Canelo's power shots couldn't be denied.
The simple fact, as evidenced in the ninth, was that the fight was a lot closer than it may have appeared. Again, Canelo's punches no doubt had a huge impact on Charlo – but Charlo was fighting well, and with more activity than the defending champion. Indeed, Charlo looked fluid and sharp in the tenth. The penultimate round saw more of Charlo trying to outbox his man and more of Canelo's chopping punches. The twelfth saw Canelo pushing the action, as always, while Charlo tried to effectively put his speed to use.
Still, Canelo looked confident and in his element, as he had throughout the fight. There was no denying Charlo's skill, however. Regardless, Canelo ended up winning a wide decision on the cards. "I love boxing so fucking much," Canelo said after the fight. "Boxing loves you," responded Showtime's Jim Grey. "You are a great fighter," Canelo said to Charlo. With that being said, Charlo said he would now go back to junior middleweight, a division he has clearly dominated. "I want to fight Terence Crawford," he said.