Posted on 08/12/2023
By: Sean Crose
The vacant IBF bantamweight title was on the line Saturday night in Maryland. The 21-2 Emanuel Rodriguez battled the 29-1 Melvin Lopez in a bout scheduled for 12 that was the main even of a Showtime/PBC card. Rodriguez landed the more telling punches in the first. The Puerto Rican fighter's combinations told the story of the second. The third was close, but Rodriguez' shots were simply superior to Lopez'. Indeed, Rodriguez' combinations may have edged the fourth for him. Lopez tried pushing the action patiently in the fifth. Was he being too patient?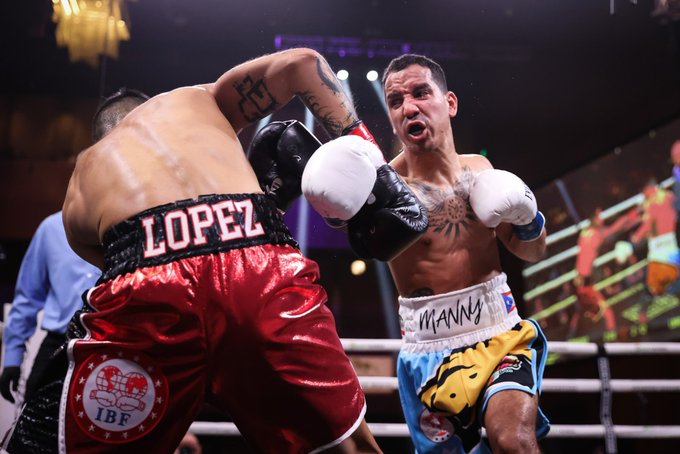 The sixth was close, but as had been the case, Lopez wasn't able to land the better punches. Lopez landed a nice straight right in the seventh, but it wasn't enough, especially when one considered the fact Rodriguez was effectively applying pressure. The eighth saw Rodriguez landing with sharp accuracy. By the ninth it was clear Rodriguez was simply to strong and professionally disciplined for Lopez. Indeed, it looked as is Lopez would need to let it all go if he hoped to somehow win the fight. Rodriguez continued to push the action while Lopez continued to fight off the rear foot in the tenth. Sure enough, the crowd began to boo.
Rodriguez may have wanted the knockout, but he wasn't going to pick up the pace enough to score one in the eleventh. Lopez might have gone for broke in the twelfth, but – perhaps looking out for his own safety – didn't. Rodriguez, on the other hand, made a last ditch effort to end the night early. Sure enough, Lopez went down in the final minute of the round. Lopez beat the count, but was put down again. Once more, Lopez got up. And once more, Lopez went down again, only to get up a third time. He made have made it to the final bell, but it was Rodriguez won the fight as well as the IBF belt via a wide unanimous decision.